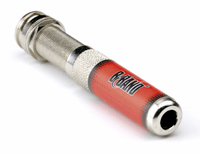 This is A1! The best comes in small packages. B-Band has always thought small and unobtrusive, to let the wood work.
A direct descendant of the classic Core99 preamp, the new, single input, A1 preamp has a direct frequency response and 24 dB of gain. The electronics are mounted in a very small tube that is directly coupled with a high quality endpin jack making an all-in-one structure. This makes for easy mounting without adding much mass to the instrument.
Mated to either a UST or AST, the reproduced sound is amazingly clear and pure.
The A1 kit provides all the mounting hardware, 9-volt hold-tight battery clip and wire harness.
A1 Features:
• One input / output for UST or AST
• High quality endpin jack
• Average battery life 750 hours
A1 Specifications:
• Frequency response: 50 Hz - 33 kHz (-3 dB)
• Low-cut slope: -12 dB/octave
• Voltage gain: 24 dB
• Input impedance: 50 Mohm || < 10 pF
• Output impedance 1 kohm
• Power supply: 9 V battery (not included)
• Current consumption: 0.4 mA typical
• Weight (with accessories): 60 g
• Dimensions: W 13 mm / .50", H 89 mm / 3.50"