Early production models of Acoustic 100 & Acoustic 200 amplifiers with serial numbers that begin with CRIL16 or CRIA17 will benefit from a firmware update and we recommend that you update your firmware. Amplifiers with other serial numbers should already have the latest version of the firmware installed.
Download the latest firmware and update utility for the Acoustic 100/200 at the bottom of this article.
System Requirements:
This program will run on any MAC with OS X 10.7 or later.
v1.0.5 revision notes
Add channel FX mute to preset structure (footswitch)
Tuner performance improvements (footswitch)
Tap function improvement (footswitch)
Improved volume control pot taper
Fixed possible freeze/crash associated with certain combinations of footswitch operations. (footswitch)
Other misc. improvements and bug fixes
Update Procedure:
Install the program by double clicking Fender Firmware Updater 2.7.dmg and follow the steps directed in the Fender Firmware Updater Installer: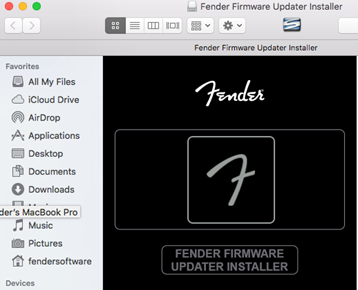 Double click

 to start.
If the Mono Framework version 5.0.1_1 is already installed on your MAC, the installer will take you to the Updater Installation otherwise the Mono Framework Installation will start:
Mono Framework Installation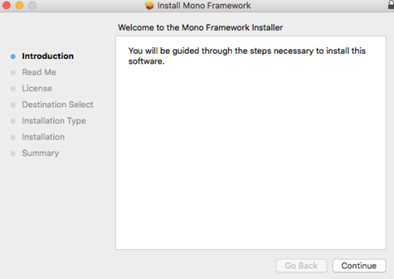 Click "Continue" to get to the Read Me: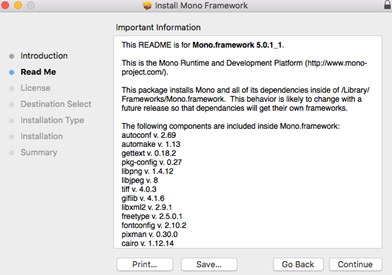 Click "Continue" to get to the license agreement: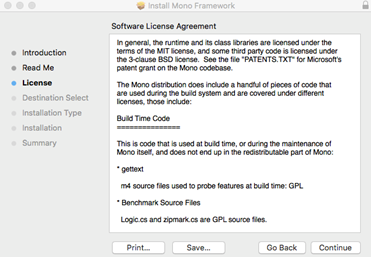 Click "Continue" and click "Agree on the pop-up window to accept: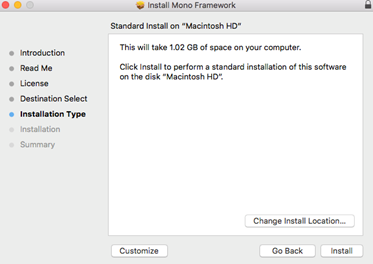 Click "Install" to start the installation: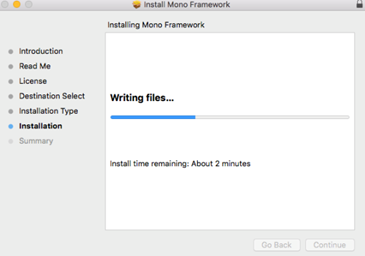 You will see the following screen when the installation is complete: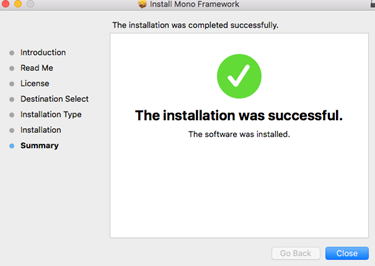 Click "Close" to start the updater installation:
Updater Installation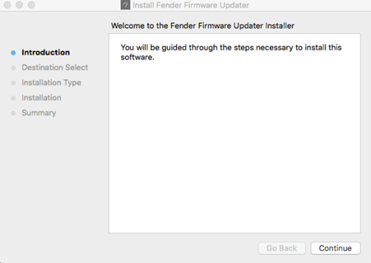 Click "Continue":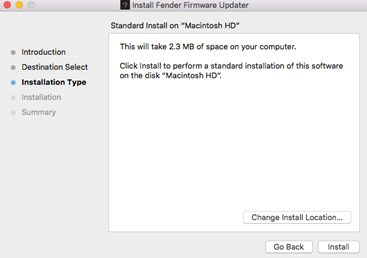 Click "Install" and you will see the following screen when the installation is complete: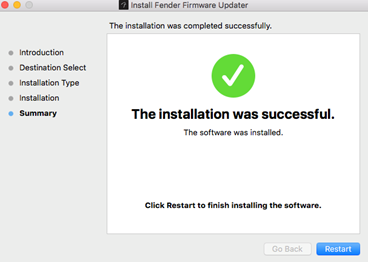 Click "Restart" to restart your computer and complete the installation.
Fender Firmware Updater
Launch the "Fender Firmware Updater" in the Utilities folder by double clicking the

 icon.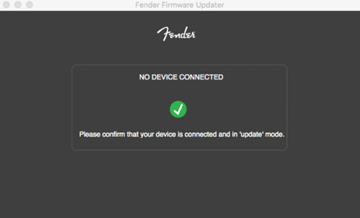 Connect your Acoustic 100/200 to your MAC via a micro USB cable.
Turn power on while holding down the left "Phase" button when facing the front on amp to enter the update mode. On the screen you will see that the amplifier is now connected: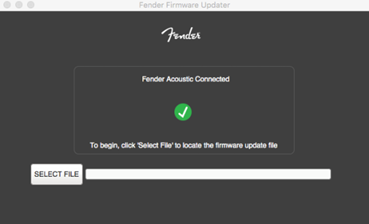 Click  "Select File" to locate the firmware update file: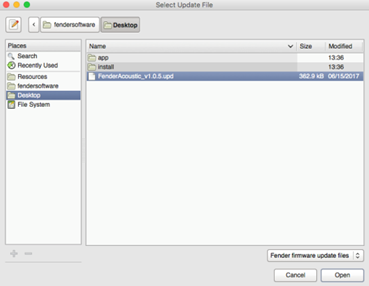 Click "Open" to select the file: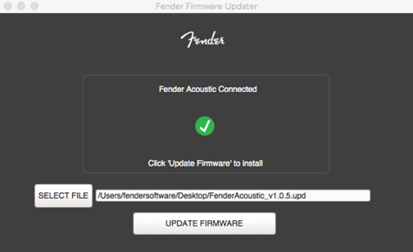 Click "Update Firmware" to start the update: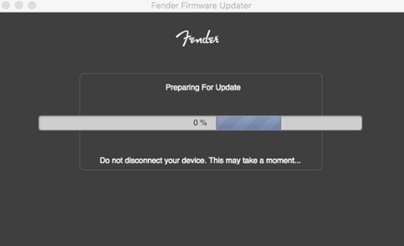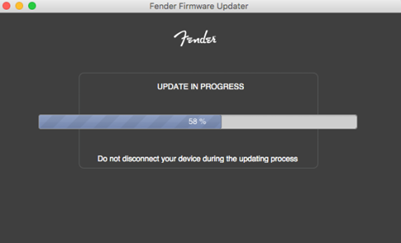 Please note that this update will take approximately 5-8 minutes and do not disconnect your amplifier during the updating process.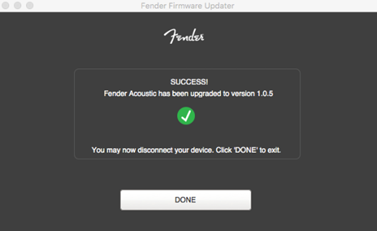 The update is complete, click "Done" to exit.
Disconnect the USB cable and power cycle your Amp to get back to normal mode.
IMPORTANT NOTE:
After updating firmware, if you use a footswitch, we recommend re-saving presets to all three preset positions on the footswitch. Firmware update does not overwrite footswitch presets.  In rare cases, presets saved with an older version of firmware can cause problems after a firmware update.   Problems may include improper footswitch operation or even amp crash or freeze.  Saving presets with the new firmware to all three presets will eliminate any problems.